| | | |
| --- | --- | --- |
| | Cicero: History Beyond the Textbook™ | |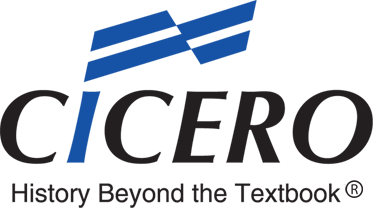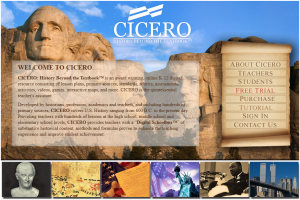 Engage
the teacher and student...

CICERO: History Beyond the Textbook™ is the core of AIHE's Digital Schoolbox™ and utilizes a range of multimedia tools designed to engage, enhance
and expand the overall Pre-K through 12 classroom (teacher and student) experience – online, anytime, virtually anywhere.

CICERO was developed by historians, professors, academics and teachers for teachers. CICERO coversU.S. History from 600 B.C. to the present day,
providing teachers with hundreds of lessons at thehigh, middle and elementary school levels, aligned with state standards. Qualified, organized, digitized and delivered, CICERO is the Ultimate Classroom Resource.

Enhance
the classroom environment...
CICERO is a comprehensive, convenient, and cost-effective online, anytime classroom tool available for Pre-K through 12 U.S. History, Social Studies and Language Arts teachers.
CICERO creates a multi-dimensional classroom environment including videos, music, interactive maps and Powerpoints.
CICERO's online, anytime learning resources are powerful, sustainable, easy to use and proven.
CICERO is comprised of fifteen online units (sold separately or in modules). Each unit is a complete, comprehensive program, designed modularly so that it may be added to other units to expand the series.
CICERO has won multiple prestigious awards, including the CODiE Award for design and the AEP Award for content.
Expand
the knowledge base...
Pre-K through 12 Teacher and Student Resources:
| | | |
| --- | --- | --- |
| • Lesson plans | | • Activities |
| • Self-authoring lessons | | • Videos |
| • Primary sources | | • Audio files |
| • Methods | | • Galleries |
| • Standards | | • Powerpoints |
| • Rubrics | | • Interactive maps |
| • Assessments | | • Timelines |
| • Charts and tables | | • Lesson Designs |
| | | |
| --- | --- | --- |
| | American Institute for History Education | |
The American Institute for History Education (AIHE) was founded in 2003 to provide history teachers with high-quality professional development programs, firmly anchored in rich historical content, along with substantive historical lessons, activities and resources to use in their classrooms. AIHE appreciates the tremendous need for teachers to have access to optimum quality historical content and more advanced resources. Study after study, and results from National Assessment of Educational Progress (NAEP) testing, demonstrate that American students are not receiving competent history education opportunities. Both students and teachers have been subjected to banal textbooks and programs that barely skim over the crucial issues in American History.
Students need to be engaged in substantive historical content. Only through reading solid, exciting historical narratives, while being engaged in intellectually stimulating activities, and then working with primary source materials, will students grasp the essential events of American History and proficiently comprehend the crucial issues of modern society.
Licensing & Sales Information
Cicero is available to public and private school districts.
For more information on how Cicero can benefit your program or on one of BLaST's other products or services please contact:
Scott Moll- Director of Information and Technology Services
smoll@iu17.org
570-323-8561
www.iu17.org

BLaST is an Equal Opportunity Employer in compliance with Title IX and Section 504



Williamsport Office
BLaST Intermediate Unit 17
2400 Reach Road • P.O. Box 3609 • Williamsport, PA 17701
570.323.8561 • 570.323.1738 Fax