| | | |
| --- | --- | --- |
| | Sojourner History | |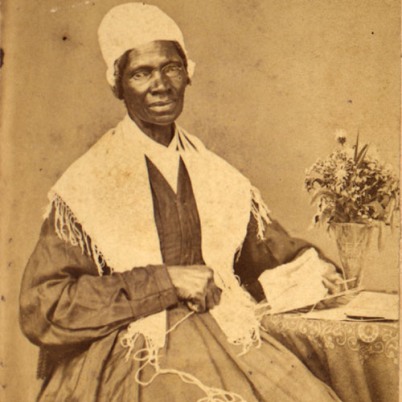 Designed by the American Institute for History Education, the Sojourner site includes a vast collection of content, strategies, tools, and lessons to help history and social studies teachers meet any academic and informational need.
Named for the famed abolitionist and female suffragist Sojourner Truth, this web site explores the travails and triumphs of the African-American experience leading educators on a chronological journey through history, marking the important signposts that have defined both United States and African-American history. SojournerHistory is a powerful teaching tool for exposing students to the contributions African Americans have made to the social, political, economic, and cultural fabric of the United States.
Understanding the African-American experience begins, of course, with a journey back through centuries of African history. SojournerHistory begins by charting the African-American experience through African Origins, Slavery, the Revolution and the development of a New Nation, and the Civil War and Reconstruction. Next it covers the rise of Jim Crow, the long Civil Rights Movement and then proceeds to the contemporary challenges of today, including the election of the nation's first African-American president.
Purchase Information
Annual subscriptions to the online resource, SojournerHistory.com, are available for purchase by educational institutions in bundles based upon the number of registered users. Purchased access is granted based upon email domain names and the total number of registered accounts.

| | | |
| --- | --- | --- |
| | American Institute for History Education | |
The American Institute for History Education (AIHE) was founded in 2003 to provide history teachers with high-quality professional development programs, firmly anchored in rich historical content, along with substantive historical lessons, activities and resources to use in their classrooms. AIHE appreciates the tremendous need for teachers to have access to optimum quality historical content and more advanced resources. Study after study, and results from National Assessment of Educational Progress (NAEP) testing, demonstrate that American students are not receiving competent history education opportunities. Both students and teachers have been subjected to banal textbooks and programs that barely skim over the crucial issues in American History.
Students need to be engaged in substantive historical content. Only through reading solid, exciting historical narratives, while being engaged in intellectually stimulating activities, and then working with primary source materials, will students grasp the essential events of American History and proficiently comprehend the crucial issues of modern society.
Licensing & Sales Information
Sojourner History is available to public and private school districts.
For more information on how SoJorner Hostory can benefit your program or on one of BLaST"s other products or services please contact:
Scott Moll- Director of Information and Technology Services
smoll@iu17.org
570-323-8561
www.iu17.org

BLaST is an Equal Opportunity Employer in compliance with Title IX and Section 504



Williamsport Office
BLaST Intermediate Unit 17
2400 Reach Road • P.O. Box 3609 • Williamsport, PA 17701
570.323.8561 • 570.323.1738 Fax