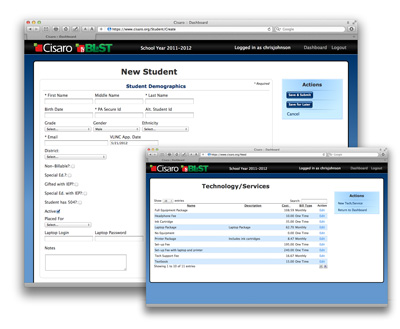 Cisaro is an easy-to-use, web-based student information system for online schools. It was designed to help intermediate units, public schools and cyber schools easily manage their online enrollments, course scheduling, and student performance in one location.

Generates forms for easy record-keeping including: enrollment forms, student schedules, student login information, computer equipment loan forms, withdrawal forms, etc.
Active Directory integrated, allowing course instructors and program administrators to use their existing district or intermediate unit login information.
Records and reports student progress. Converts student progress into progress monitoring featuring easy-to-read charts.
Tracks inventory, sale, and loan of computer equipment, textbooks, and other school supplies to students. Fees can be assessed as a one-time charge or a recurring cost.
Generates invoices by school and individual student for billing and tracking purposes.
Multiple access levels ensure that intermediate units, districts, and teachers can only access information for their own students.
Reporting features including transcripts and statistical data.

Licensing & Sales Information
Cisaro is available to public and private school districts as well as for commercial applications.

For more information on how Cisaro can benefit your program or on one of BLaST's other products or services please contact:

Scott Moll Director of Information and Technology Services
smoll@iu17.org
570-323-8561
www.iu17.org

BLaST is an Equal Opportunity Employer in compliance with Title IX and Section 504



Williamsport Office
BLaST Intermediate Unit 17
2400 Reach Road • P.O. Box 3609 • Williamsport, PA 17701
570.323.8561 • 570.323.1738 Fax