The Electronic Learning Registration and Reporting (E-LRNR) system is an easy-to-use event registration system. It was initially developed to handle seminars, trainings, and registration for Intermediate Units in Pennyslvania. E-LRNR has now been expanded to include registration support for conferences and events. E-LRNR has now also been integrated with Pennsylvania Department of Education continuing education credit standards Act 48 and Act 45.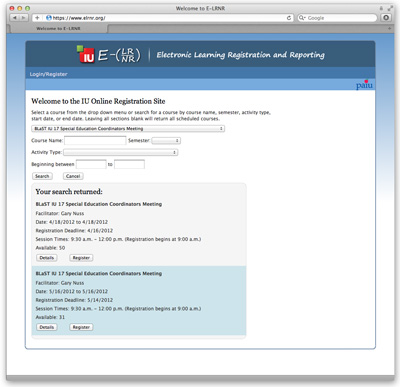 For Users:
E-LRNR allows users to create accounts and log in to register for events. Users may select pricing options, credit options, view what events/courses they are registered for, or have attended. The system is designed with Active Directory Integration, allowing users to log in with their existing e-mail accounts.


For Administrators:
E-LRNR allows administrators to create courses, create pricing and credit options for courses, create and register users and facilitators, track users' attendance and history, print rosters, export billing information, e-mail credit certificates to registrants, and submit records to the Pennsylvania Department of Education.
Licensing & Sales Information
E-LRNR is available to public and private school districts as well as for commercial applications.
For more information on how E-LRNR can benefit your program or on one of BLaST's other products or services please contact:
Scott Moll- Director of Information and Technology Services
smoll@iu17.org
570-323-8561
www.iu17.org

BLaST is an Equal Opportunity Employer in compliance with Title IX and Section 504



Williamsport Office
BLaST Intermediate Unit 17
2400 Reach Road • P.O. Box 3609 • Williamsport, PA 17701
570.323.8561 • 570.323.1738 Fax